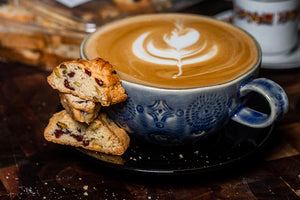 BRING A TASTE OF ITALY TO YOUR TABLE  
It all starts by hand picking the freshest, highest quality ingredients from local farmers. Each ingredient is treated with care and love paying close attention to highlight their natural benefits. The results can only be described as "Delizioso". 
Shipping Information
Please allow 3-7 business days for processing and delivery. This gives us time to prepare your order with exceptional care and attention to detail with the freshest ingredients. Please note that we do not ship perishable food items outside the contiguous 48 states or to P.O. Boxes.
Products are shipped in eco-friendly sustainable and biodegradable packaging.
All frozen products may be received in a frozen or partially frozen state and should be immediately placed in the freezer upon receipt.
All frozen products should be cooked from a frozen state according to the package instructions.
Shipping Schedule:
Orders are shipped out Monday through Wednesday except holidays.  
Sorry, we cannot ship to PO boxes - your order must be shipped to a street address.
Nicola's Marketplace works with UPS to deliver your products safely to your destination.  Once your order leaves our kitchen, your order will be managed by UPS.  UPS will track your order and keep you informed of any issues. For questions related to your order, once your order has left the kitchen, please contact UPS at: https://www.ups.com/us/en/help-support-center.page for updates or delivery information. 
Shipping Zones
FREE ground shipping for all orders over $100
Perishable Shipping
Zone 1: Connecticut, Delaware, Illinois, Indiana, Maine, Maryland, New Hampshire, New Jersey, New York, Ohio, Pennsylvania, Rhode Island, Tennessee, Vermont, Virginia, West Virginia
$14.95 flat shipping fee for orders less than $100
Zone 2: All Other States
$24.95 flat shipping fee for orders less than $100
Orders containing ONLY non-perishable items will ship for $7.95 nationwide.
How will your order be packaged?
All perishable orders will be shipped frozen and will arrive frozen to partially thawed.  It should be refrozen immediately upon receipt.  We take food safety and shipment of our products seriously and take as many measures possible to ensure your order arrives in a safe condition. It is possible that a portion of your order may not arrive completely frozen, especially when the weather is very warm. If the product arrives at room temperature or warm, DO NOT EAT IT. Please contact us immediately at info@nicolasmarketplace.com. 
 Cold packs will be used to maintain the temperature during transit. Once the package arrives, it is your responsibility to keep the product frozen. For example, if you're away or the package is neglected, and the package thaws, we cannot take responsibility for any lost product. 
**Important Shipping Notes**
Nicola's Marketplace cannot be responsible for product that fails to be delivered due to incorrect or incomplete addresses, or to PO addresses.  Please check the address before completing your order.
Nicola's Marketplace cannot be responsible for shipping delays or problems caused by the shipping company, for failure to deliver in an untimely fashion, for incorrect addresses and other failed delivery attempts, and for inclement weather conditions and/or other acts of God/natural disasters/unforeseen events If for any reason you are unhappy with your order or an item you have received, please let us know. Contact customer service at info@nicolasmarketplace.com